Hilton Americas-Houston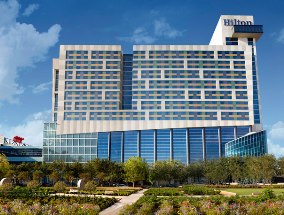 At 1,200 rooms, Houston's largest hotel is connected to the George R. Brown Convention Center. Hilton Americas-Houston features more than 91,000 square feet of flexible meeting space, including a 40,000 square foot ballroom, 26,000 square foot ballroom and 30 versatile meeting rooms. Other features include an onsite FedEx Store business center, restaurant, a lobby lounge, Starbucks, and a fitness center and spa with a 75 foot infinity pool and oversized whirlpool. Visit the web site
Jones Hall for the Performing Arts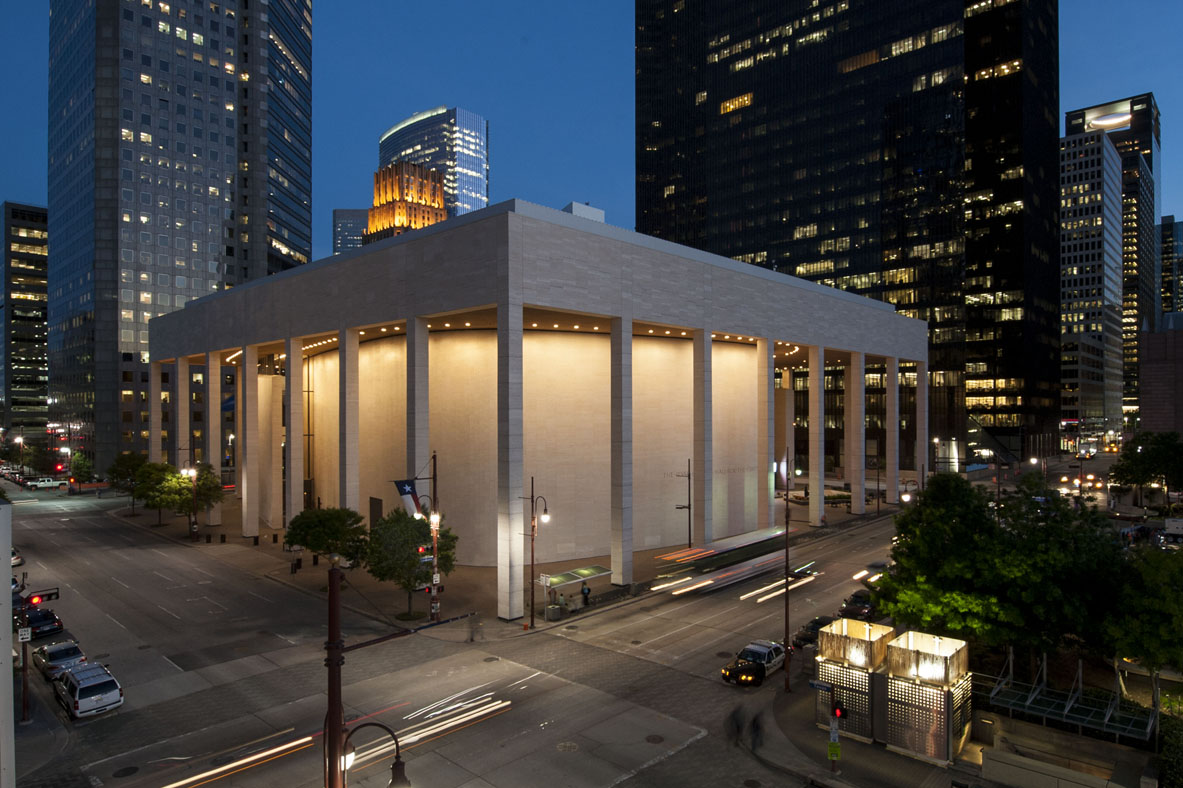 Home to Houston Symphony, Society for the Performing Arts and Houston Broadway Series, Jones Hall entertains more than 400,000 visitors at some 250 events annually. It was opened in 1966 and ranks as the dean of downtown performance venues. visit the web site
Miller Outdoor Theatre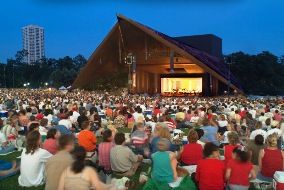 Located on nearly eight acres in the heart of Hermann Park, Miller Outdoor Theatre is the only free open-air theatre of its kind in the United States. Every performance in its March-to-November season is free. Visit the web site
Theater District Parking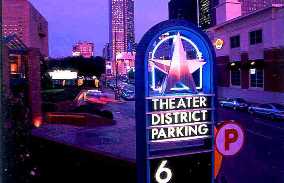 Theater District Parking is a vital, hidden asset that serves Houston's central business district round the clock. The garage spans 18 underground blocks and consists of 3,369 parking spaces. At street level, the garage is situated below Jones Plaza, Bayou Place and Tranquillity Park. Visit the web site
Avenida Houston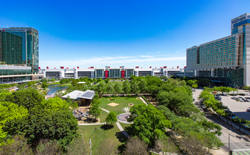 Big changes continue to unfold in the neighborhood around the George R. Brown Convention Center known as Avenida Houston. The GRB has undergone a revitalized façade that includes a grand concourse for convention guests. The Avenida Houston project also includes new street-level retail spaces at the GRB, mostly restaurants, as well as striking public art features.
The GRB in connected to the forthcoming Marriott Marquis Houston via sky bridge on the second level, a companion hotel to the Hilton Americas-Houston on the south end of the building. The boulevard in front of the convention center has been reduced to fewer lanes, featuring widened sidewalks and more outdoor plaza space that connects people in the GRB to Discovery Green.
The newly opened Partnership Tower now houses Houston First, the Greater Houston Convention and Visitors Bureau and Greater Houston Partnership employees. It abuts the GRB at the north end of the building and the two buildings are linked via sky bridge. More retail or restaurant space will eventually be built at street level. Partnership Tower features light rail lines on both sides, with one set of tracks running right through the 1,900-car garage and transit center. The entire structure will have a foundation that can later support the addition of a boutique hotel on top.
All of these projects are designed to enhance the Houston experience for visitors and locals.
George R. Brown Convention Center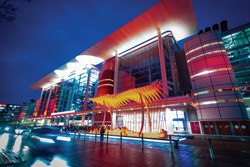 The George R. Brown Convention Center in Houston has become one of America's leading meeting places by combining form with functionality. One of the 10 largest convention centers in America, the George R. Brown was expanded to nearly 2 million square feet in 2003. Visit the web site
Wortham Theater Center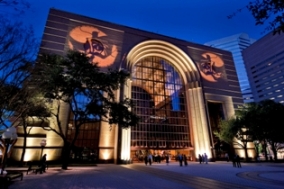 Wortham Center is home to Houston Ballet and Houston Grand Opera. Funded entirely by the private sector during the height of the 1980s oil bust, Wortham was opened in 1987 and has since entertained audiences totaling more than five million people. Visit the web site
Outdoor Facilities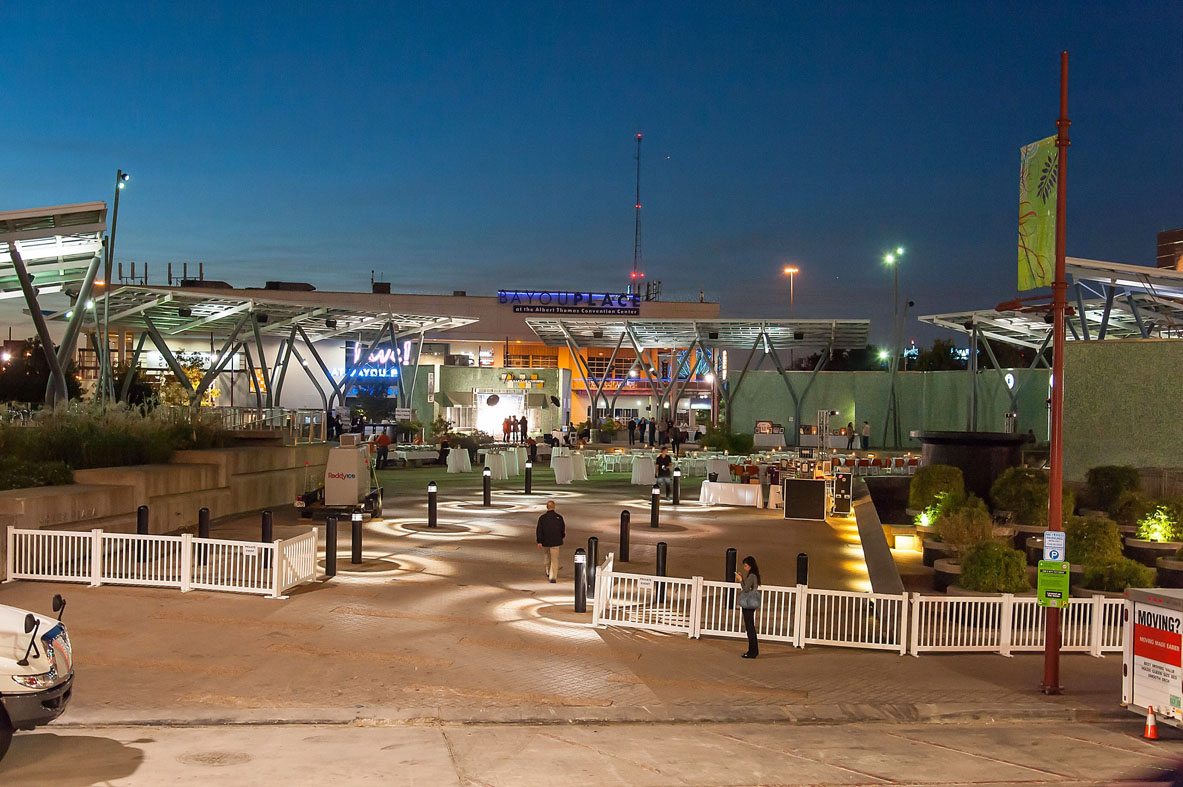 Houston First manages and operates a number of smaller municipal facilities, including Jones Plaza (shown here), Bush Monument Park, Ray C. Fish Plaza, Root Memorial Square, Sabine Promenade and Sesquicentennial Park. Visit the web site